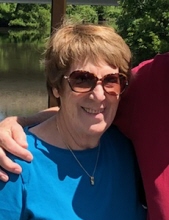 Obituary for Penny Van De Water
Harriet "Penny" Furth Van De Water, 73, of Hillsborough, NC, died on September 7, 2018, after a short illness. When she passed, Mrs. Van De Water was surrounded by her loving husband and three adoring daughters.

Mrs. Van De Water was born in Manhasset, NY, to Stephen and Marianne Furth. She was married to husband, Cole, for 50 years. They were married in New York, NY, but spent more than 40 years in Ramsey, NJ, before moving to Hillsborough in 2010. She was a long-time employee of the Ramsey Public Library, as well as a member of the Wyckoff Reformed Church, Wyckoff, NJ. She was also an active member of University Presbyterian Church, Chapel Hill.

She was passionate about her family. Her favorite time was spent loving on her 8 grandchildren. She was also an avid reader and volunteer at the Hillsborough Public Library. And her chocolate sheet cake was legendary.

Her parents, Stephen and Marianne, and her sister, Fran, of San Antonio, TX, preceded her in death. She is survived by husband, Cole; daughters, Amy (husband, Michael) of Hillsborough, Robyn (husband, Michael) of Hillsborough, and Jill (husband, Andrew … she wasn't allowed to marry a Michael) of Hickory, NC. Grandchildren: Tyler, 19, Abigail, 17, Isaac, 15, Benjamin, 13, Peter, 11, Sage and Anna, 9, and Caleb, 6, will all miss their beloved "Nana." Nieces and nephews, relatives, and life-long friends are all part of the VanDeWater extended family.

UPDATED SERVICE INFO:
A memorial service will be held at 2:00 p.m. on Sunday, September 23rd at University Presbyterian Church: 209 E. Franklin St., Chapel Hill, NC 27514.

The family is requesting that in lieu of flowers donations may be sent to: University Presbyterian Church, 209 E. Franklin St., Chapel Hill, NC 27514 (her home congregation); Northminster Presbyterian Church, 3730 North Center St., Hickory, NC 28601 (where her daughter Jill serves as Pastor); Wyckoff Reformed Church, 580 Wyckoff Ave., Wyckoff, NJ 07481 (their church of over 40 years); or the charity of your choosing.
Previous Events
Memorial Service
University Presbyterian Church
209 E. Franklin St.
Chapel Hill, NC 27514