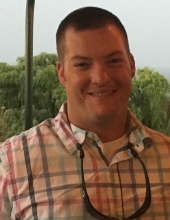 Obituary for Jeffrey "Stan" Newton Holden
***************************IMPORTANT PARKING ANNOUNCEMENT***************************
Everyone attending the services for Mr. Holden at New Horizon Church should park in the marked places at Orange High School (500 Orange High School Rd, Hillsborough, NC 27278) or to New Hope Church (512 US Highway 70, Hillsborough, NC 27278). Transportation will be provided by shuttle to and from New Horizon Church.



ROUGEMONT: Jeffrey "Stan" Newton Holden, 32, passed away unexpectedly on Monday, August 13, 2018 while on duty at Orange Rural Fire Department.

Jeff is survived by his wife, Christa M. Holden; son, Miller Newton Jake Holden; parents, Vance Newton Holden and Kathryn Doran Holden; sister, April Washington (Garry); nieces, Ava and Lucy Washington; cousin, Meghann Schurr; and parents-in-laws, Vern Miller and Tina Jacobs Miller.

Jeff was a 2003 graduate of Orange High School in Hillsborough and a member of Little River Presbyterian Church. He was employed with the Orange Rural Fire Department as Assistant Chief of Training and Safety. He began volunteering with the fire department in 2001 and became formally employed in 2003. He was promoted to a Lieutenant Driver in 2005, Captain in 2007 and to Assistant Chief in 2016. In 2009 Jeff received the Ben Franklin award, an award given to firefighters who go above and beyond the call of duty. He received the officer of the year award in 2012 and 2014 for outstanding leadership. Additionally, Jeff was a Lieutenant at Caldwell Volunteer Fire Department where he joined in 2016.

A funeral service will be held at 11 a.m. on Saturday, August 18th at New Horizon Church with Rev. Chuck Link officiating. Pallbearers will include David Shaw, Jonathan Capps, Troy Breashears, Joel Massey, Casey Warren and Josh Hudson. Honorary pallbearers will include the Orange Rural Fire Department and the Caldwell Volunteer Fire Department.

In lieu of flowers, the family requests that memorial donations be made to the Christa Holden "Scholarship For Miller Fund" P.O. Box, 1090, Hillsborough, NC 27278, Attn: Deonza Clark.

The family is being assisted by Clements Funeral and Cremation Services, Inc. in Hillsborough. Online condolences may be sent to www.clementsfuneralservice.com.
Previous Events
Funeral Service
New Horizon Church
100 Horizon Place
Durham, NC 27705