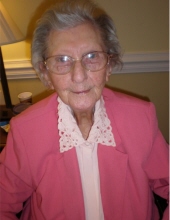 Obituary for Rosa Lee Beavers
DURHAM -- Rosa Lee Bullock Beavers, 101, died Oct. 26, 2019 at Hillcrest Convalescent Center, where she had lived for the last 8 years. She was born on Dec. 17, 1917 in Durham to Elvin Thomas Bullock and Cora Lee Dunnegan Bullock. She had a sister, Mae Ruth Bullock.

Known to her friends as Rosa, she was a caring person, looking after her aunts and uncles in the last years of their lives.

She was married to Robert Irvin Beavers and they had two sons, Robert Thomas Beavers and William Joseph Beavers. After Irvin died in 1974, she went to work at Baldwin's Department Store.

Rosa loved her church, Trinity Ave. Presbyterian Church. She and her sister walked with other children from the "little church on the corner" to the main sanctuary when it opened in 1925. Sitting near the back of the church, she often was the first person to greet visitors to the church.

Rosa was also known to her sons' friends for her Monday night dinners for the family.

She was pre-deceased by her parents, sister and husband. She is survived by her sons, Tom (Betty) and Joe (Reba), of Durham; a granddaughter, Kathryn Elizabeth Beavers Love (Matt) of Destin, Florida; and a great-grandson, Wyatt Robert Love of Destin, Florida.

The family would like to thank Hillcrest for the care that was given for the last 8 years.

A memorial service, followed by a reception, will be held at 2 p.m. Nov. 25 at Trinity Ave. Presbyterian Church.

In lieu of flowers, contributions may be made to Trinity Ave. Presbyterian Church, 927 Trinity Ave., Durham, NC 27701.

The family is being assisted by Clements Funeral & Cremation Services, Inc. in Durham. Online condolences may be sent to www.clementsfuneralservice.com.
Upcoming Events
Memorial Service
Trinity Avenue Presbyterian Church
927 West Trinity Avenue
Durham, NC 27701-1715
Memorial Contribution