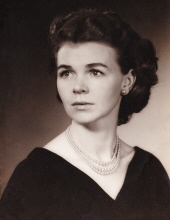 Obituary for Mary Cannon Clark
Mary Cannon Clark passed peacefully in her sleep on Monday November 5th, just 15 days shy of her 99th birthday.

Born November 20, 1919, in Saint George, South Carolina, Mary Dick ("Dickie") Cannon was the much beloved daughter of pharmacist Claude Claiborne Cannon and Anne Cornelia ("Connie") Johnston Cannon. Dr. Cannon's work at quarantine stations saw the family moving frequently and far, to places ranging from Boston, Massachusetts to the Gulf of Mexico. In addition to Boston, childhood homes included Staten Island, Baltimore, Washington, D.C., Charleston, South Carolina, and Pelican Island in Galveston, Texas.

An only child on the move, "Mary Dick's" mostly imaginary playmates benefitted from the vivid imagination and energy of their young creator. Is it surprising that Mary developed a keen interest in acting? Is it surprising that she also manifested talent playing piano, the zither, and other instruments? Or that she had a wonderful singing voice? Is it surprising that her true love would ultimately be art? Well, art and — it turned out — Arthur, whom she eventually met in Chapel Hill.

During her high school years at Charleston's Ashley Hall, Mary earned a degree in Music. At the College of Charleston her BS was in "pre-Med." Although she was then accepted into Medical School, she decided to enter the Law School at the University of North Carolina, where she met Arthur Watts Clark of Seattle, Washington.

In 1942, Arthur completed his undergraduate work and enlisted in the Army Air Forces. Mary and Arthur married that November, and Arthur Jr. was born 9 months and 10 days later.

Mary's priorities changed after marriage, the birth of their first child, and Arthur's enlisting. With an infant son and a young husband in training at intelligence schools and bases around the country (and soon to be shipped to then-unknown destinations overseas), Mary discontinued her pursuit of a law degree. During her husband's World War II deployment, Mary and the baby lived with her parents in Southport, NC, where Mary taught school and did office work at a Wilmington shipyard. She also rekindled her passion for the arts, and after the war, she ultimately received a Master of Arts degree from UNC's department of Dramatic Arts. The couple finally settled in Durham, and in the decades that followed, even as she raised her growing family, Mary continued studying and developing her skills as a painter, leading to a remarkable and prolific career as an artist and teacher. Mary was extremely talented in portraiture and copy work, but perhaps her greatest contribution was in teaching – helping many students realize their own potential as artists. Some of her students have themselves become professional artists and teachers. Her own favorite teacher was Mabel Pugh at Peace College in Raleigh, but her most memorable venue may have been Lake Como, Italy, where she studied briefly. She was a registered copyist at the National Gallery in Washington, where she was able to copy treasured paintings with her easel positioned in front of the masters' original work. Mary has painted hundreds of portraits, which hang across the country and as far away as Brussels, Belgium.

Incidentally, while her husband's business and military duty required frequent travel, Mary refused to go along on airplane trips when the children were young, just to make sure the three sons did not lose both parents suddenly. However, once that part of parenting was behind her, Mary took the trip to Italy to study, and also joined the rest of the family in their love for travel. Other adventures found her in Ireland, Paris, Eastern Europe, Africa, Hong Kong, Hawaii, and Guam where she sailed and snorkeled.

Predeceased by her dear parents for whom she cared tirelessly and by her first cousin and life-long friend John David Johnston of Saint George, Mary Clark is survived by her loving husband Arthur Watts Clark Sr.— who spent countless hours at her side for many months and was holding her hand at the end — and by three sons and two daughters-in-law, five grandchildren, and three great grandchildren: Arthur Clark Jr, MD of Calgary, Canada; in North Carolina by Claiborne Clark and his wife Jessie of Durham and their daughters & families — Heather & Jason Daurity of Raleigh and their sons Andrew and Ben, and Megan Clark & Garrett Scales of Durham and their daughter Margaux, and Christina Clark, also of Durham; and in Georgia by their son Johnston (John) and his wife Joyce and their children Julie Clark and Dr. William Clark.

Throughout her life and until the very end, Mary maintained a wonderful sense of humor and style. In so many ways, she brought joy to those who knew her. To her sons, she contributed enthusiasm (and some talent) for art, poetry, music and stories; and vitality with a humorous touch. She taught her sons a strategy of inventing games to accomplish whatever they wanted to get done. Among her last requests were a book of one-liners and a chance to play charades.

Mary Cannon Clark was a child of God who loved Jesus Christ and regularly read Unity's "Daily Word" magazine. She will be missed by her family, her students, and by a host of loving friends and supporters.

The family wishes to express their love and appreciation to the many caregivers who have helped immeasurably in recent years, particularly Miranda Riggsbee.

A memorial service will be held for Mary at the Cedars Ballroom at 100 Cedar Club Circle at 3 PM on November 20, 2018.

In lieu of flowers, the family suggests mailing memorial contributions to UNC Lineberger Comprehensive Cancer Center at CB #7295, UNC-CH, Chapel Hill, NC 27599-7295. In the memo Line please put "Mary Clark". Alternatively, memorial contributions can be made via the Lineberger Center's website or by telephone at (919) 966-5905. Please reference the gift as a memorial for Mary Clark.

The family is being assisted by Clements Funeral and Cremation Services, Inc. in Durham. Online condolences may be sent to www.clementsfuneralservice.com.
Previous Events
Memorial Service
Cedars Ballroom
100 Cedar Club Circle
Chapel Hill, NC 27517
Memorial Contribution
UNC Lineberger Comprehensive Cancer Center
UNC Lineberger Comprehensive Cancer Center at CB #7295, UNC-CH, Chapel Hill, NC 27599-7295. In the memo Line please put "Mary Clark". Alternatively, memorial contributions can be made via the Lineberger Center's website or by telephone at (919) 966-5905. Please reference the gift as a memorial for Mary Clark.