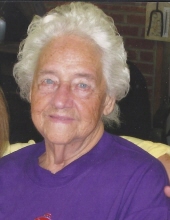 Obituary for Valler Ree Davis Riley
Valler Ree Davis Riley, age 89 of Cedar Grove passed away peacefully at her home on August 3, 2017.

She was preceded in death by her parents William C Davis and Bertie M Davis. She was the wife of the late Billy Layman Riley, with whom she shared 58 years of marriage prior to his death in 2004.

Mrs. Riley was a kind and loving wife, mother and grandmother. She was devoted to caring for her family. She loved to sew for her family and others. In her early years, she enjoyed making the clothes her children wore, and later she made blankets, quilts and Halloween costumes for the grandchildren. She especially enjoyed planting and working in her flower gardens. She was a talented artist, drawing and painting. She will be dearly missed, but forever in our hearts.

She is survived by: Teddy Riley and wife Lynn of Durham, Richard Riley and wife Vicky of Bahama, Debra Riley of Cedar Grove, Randy Riley and friend Donna Carroll of Bentonville, Mary McGinty and husband Thomas of Cedar Grove, Tina Brewster and husband Tony of Durham, Tommy Riley and wife Gail of Cedar Grove. She is also survived by 13 grandchildren and 23 great grandchildren.

A graveside service will be held 2 PM on August 5, 2017 at The Riley Family Cemetery, McDade Store Rd. Cedar Grove with Pastor Greg Long officiating.