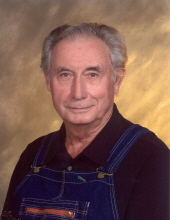 Obituary for Richard C. Roberts
HILLSBOROUGH: Richard C. Roberts, 86, passed away Tuesday, March 7, 2017 at Brookshire Nursing Center. He was born and raised in Hillsborough to the late Clyde and Beth Browning Roberts. In addition to his parents, he was also preceded in death by wife and soul mate, Ollie Mae Crabtree Roberts; and daughter, Carol Mesheile Roberts Steele.

Richard was a Hillsboro High graduate (c/o 1948) and attended N.C. State University (c/o 1952). Mr. Roberts was also a U.S. Army veteran, serving in the Korean War. Richard lived his whole life in Hillsborough on the family farm growing crops such as rye, barley, wheat, corn, and tobacco. He also raised all types of livestock, including poultry, beef, sheep, and hogs. In the 1980s, Little River Ranch earned the "Century Family Farm" recognition. Richard retired in the 1990s but still stayed active until many years later.

Richard was a member of New Sharon Methodist Church his whole life and taught Sunday school for over 50 years. He was also an active member of the Schley American Legion post 452 and Schley Grange organization. Richard also served on the board of Piedmont Electric Membership Corporation for over 40 years; starting as a board member, then Director of the board, and recently retired as Director Emeritus. He was recognized with a Lifetime Achievement award in February 2016 for his accomplishments with Piedmont.

Mr. Roberts is survived by a sister, Polly Cabe Roberts; two sons, Richard "Ritchie" C. Roberts II (Beverly) and Bruce Clyde Roberts (Elizabeth); daughter, Shelby Lynn Roberts Cole (James); and his grandchildren: Haven Elizabeth Roberts, Rhoan Clyde Roberts, Richard Cain Roberts III, Sarah Beth Roberts, and Savannah Mae Cole.

A memorial service will be held on Sunday, March 26 at 2 p.m. at New Sharon United Methodist Church. In lieu of flowers, donations may be made to the NSUMC Cemetary Fund.
Previous Events
Memorial Service
New Sharon United Methodist Church
1601 New Sharon Church Rd
Hillsborough, NC 27278
Memorial Contribution